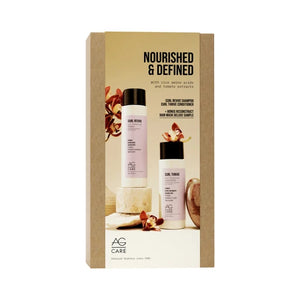 ABOUT:
Save on AG Care's Curl Shampoo & Conditioner Gift Set, infused with our exclusive Curl Creating Complex containing rice amino acids and tomato extract.

1 x Curl Revive Shampoo
1 x Curl Thrive Conditioner
1 x BONUS Reconstruct Mask Deluxe Sample
CURL REVIVE Curl Hydrating Shampoo
Gently cleanse while moisturizing and activating curls with coconut oil and pea peptides. Massage into wet hair, rinse.
CURL THRIVE Curl Hydrating Conditioner
Quench parched curls, smooth frizz and add definition with moisturizing shea butter and quinoa protein. Massage into damp hair, leave for 1-2 minutes before rinsing.
RECONSTRUCT Vitamin C Strengthening Mask
Help make hair stronger, shinier and more radiant with this nutrient-rich mask, packed with vitamin C, plant-based squalane and shea butter to help increase collagen and add elasticity. Massage into damp hair. Leave for 5 minutes before rinsing or longer for more intense conditioning.