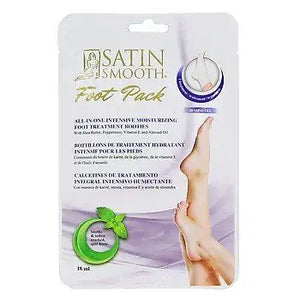 ABOUT: 
So long dry, cracked, and tired feet! Our Satin Smooth Intensive Moisturizing Foot Mask is exactly what you need to get your overworked feet back to perfect form. Infused with health-giving wholesome ingredients, these moisturizing booties thoroughly nourish and hydrates your feet in just minutes. 
BENEFITS:
Antimicrobial concentrated formula delivers extra-rich emollients into the dermal layers promoting exfoliation, eliminating calluses
Stimulates collagen and elastin production
Penetrates deeply, toning and refreshing the skin; promoting vitality and aromatherapy
Results in just 20 minutes
HOW OT USE:
Apply glove or bootie, remove after 20 minutes and massage in any remaining lotion for a relaxing hand or foot treatment.