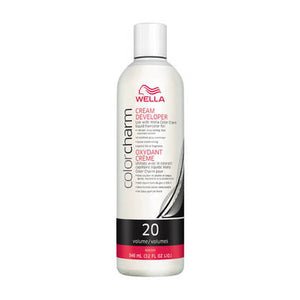 Wella Color Charm stabilized 20 Volume cream developer is specifically developed for use with Wella Color Charm haircolor. Use 20 Volume cream developer for up to 2 levels of lift and for optimal gray hair coverage.
BENEFITS:

Vibrant, long lasting, fade resistant results

Excellent gray coverage 

Great conditioning 

Gentle floral fragrance
FOR PROFESSIONAL USE ONLY
DIRECTIONS:
Mix 1 part Wella Color Charm color with 2 parts Wella Color Charm cream developer. 
CHOKING WARNING HAZARD:
THIS PRODUCT IS TO BE USED IN COMBINATION WITH WELLA COLOR CHARM HAIRCOLOR. DO NOT APPLY THIS PRODUCT DIRECTLY TO THE HAIR. READ AND FOLLOW ALL INSTRUCTIONS PROVIDED WITH THE HAIRCOLOR BEFORE USE. KEEP OUT OF REACH OF CHILDREN. CAUTION: CONTAINS HYDROGEN PEROXIDE. AVOID CONTACT WITH EYES. THIS PRODUCT CONTAINS HYDROGEN PEROXIDE, WHICH MAY CAUSE SEVERE EYE IRRITATION AND POSSIBLE PERMANENT EYE INJURY. IF THE PRODUCT GETS INTO THE EYE, FLUSH IMMEDIATELY WITH A LARGE AMOUNT OF LUKEWARM WATER AND SEEK MEDICAL ADVICE. REMOVE CONTACT LENSES BEFORE FLUSHING EYES. WEAR SUITABLE GLOVES. AVOID UNNECESSARY SKIN CONTACT AND IMMEDIATELY RINSE ANY SPLASHES ON THE SKIN AND CLOTHING. KEEP PRODUCT AWAY FROM HEAT AND LIGHT AND STORE IN A COOL PLACE. DO NOT USE IF SCALP IS IRRITATED OR INJURED. DO NOT EXCEED THE DEVELOPMENT TIME STATED. RINSE HAIR WELL AFTER APPLICATION. DO NOT PERM, RELAX OR STRAIGHTEN THE HAIR IMMEDIATELY BEFORE OR AFTER USE. DO NOT USE WHEN THE HAIR HAS PREVIOUSLY BEEN COLORED WITH HENNA OR METAL DYES. DO NOT USE METAL BOWL/STIRRER FOR MIXING. REMOVE ALL METAL OBJECTS FROM HAIR BEFORE COLORING AND KEEP THEM AWAY DURING COLORING. DO NOT LEAVE COLORANT MIXTURE IN A CLOSED BOTTLE (BOTTLE MAY EXPAND/BURST). USE COLORANT MIXTURE IMMEDIATELY AND DISCARD ANY UNUSED MIXTURE.
INGREDIENTS:
Water/Eau, Hydrogen Peroxide, Cetearyl Alcohol, Styrene/VP Copolymer, Disodium Phosphate, Sodium Lauryl Sulphate, Phosphoric Acid, Salicylic Acid