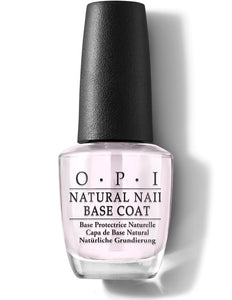 Proper application is key to making nail polish last, be sure to start with properly prepped nails and apply 1 coat of base coat nail polish before color application to help extend wear.
FEATURES:
OPI Natural Nail Base Coat nail polish can be used under OPI Nail Lacquer shades.

Promotes a longer-lasting manicure for optimal results and up to 7 days of wear and shine.
HOW TO USE:
Properly prep your natural nail to ensure Nail Lacquer adhesion.
Start by applying one coat of OPI Natural Nail Base Coat.

Shake nail polish shade of choice before application to properly mix pigment to help avoid streakiness.

Apply two thin coats to each nail. Ensuring to cap the free edge to prevent chipping.

Lastly, apply one coat of OPI Top Coat to finish.

For a manicure that's dry to the touch in minutes, apply 1 drop of OPI DripDry lacquer drying drops to each nail.