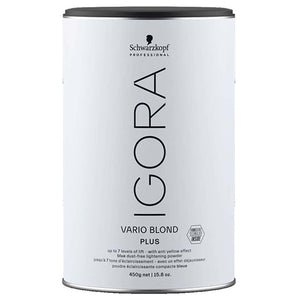 FOR PROFESSIONAL USE ONLY. REVIEW & FOLLOW MANUFACTURERS INSTRUCTIONS AND WARNING BEFORE APPLICATION. ALWAYS CONDUCT STRAND TEST PRIOR TO USAGE.
ABOUT:
IGORA VARIO BLOND PLUS Powder Lightener – delivers up to 7 levels of lift and precise neutralisation. The integrated Fibre Bond Technology enforces bonds within the hair fiber to reduce hair breakage. To be used with IGORA ROYAL Oil Developer (3%/ 6%/ 9%*** *9% for off-scalp application only
BENEFITS:
High-performing bleach with integrated Fibre Bond Technology for perfect lightening results from strands to full head bleaching
Up to 7 levels of lift with maximum neutralisation thanks to cool pigments
Dust-free powder
Clearest blonde results thanks to Anti-Yellow Effect
HOW TO USE:
MIXING: Mix 35 g (1.2 oz) BLUE DUST-FREE LIGHTENING POWDER with 70 ml (2.3 fl oz) (1:2) of IGORA Oil Developer 3%/10 Vol., 6%/20 Vol. or 9%/30 Vol. until a smooth cream is achieved. APPLICATION: Apply immediately after mixing. Even distribution and a sufficient amount of product ensures the best equalisation. Apply carefully and evenly in fine sections to dry, unwashed hair only, starting at the nape area. DEVELOPMENT TIME: 20-45 minutes, depending on texture, developer used and desired results. Do not use artificial heat from steamer or drying hood to reduce the development time. REMOVAL: After development, rinse thoroughly with warm water, apply FIBREPLEX shampoo and treat with FIBREPLEX No. 2. USA only: REMOVAL: After development, rinse thoroughly with warm water, apply Schwarzkopf Professional Shampoo and treat with Schwarzkopf Professional No. 2 Bond Sealer product. Additional bonding system may compromise performance.
WARNING:
For professional use only. Product can cause severe allergic reactions. Read and follow instructions. Do not lighten hair if your client: – has a rash on the face or sensitive, irritated and damaged scalp, – has ever experienced any reaction after lightening. Rinse well after application. Avoid contact with eyes. Rinse immediately if product comes into contact with them. Wear suitable gloves. Keep out of reach of children. Do not use to dye eyelashes or eyebrows, to do so may cause blindness. Close tight. Store in a cool and dry place. Use in well ventilated places. Do not use on damaged hair. IF DURING LIGHTENING CLIENTS EXPERIENCE any stinging or burning and/or rash, rinse immediately and discontinue use as this may be an indication of a more serious reaction. Do not lighten their hair again and advise the client to consult a doctor or seek medical advice. IF AFTER USE OR ON THE FOLLOWING DAYS the client experiences problems such as skin or scalp itching, skin or scalp rash, swelling of eyes/face, blistering and/or skin or scalp weeping, have client seek immediate medical attention and contact the manufacturer. PRECAUTIONS: This product contains ingredients which may cause severe eye irritation and possible permanent eye injury. If the lightening mixture gets into the eye, flush eyes immediately with a large amount of lukewarm water and seek medical advice. Contact the manufacturer. If the client wears contact lenses during the application and any product gets into their eye, have them remove the contact lens first, then flush immediately with a large amount of lukewarm water and seek medical advice. Do not inhale or ingest the product. Avoid unnecessary skin contact. Do not use if their hair has been coloured with henna or metallic dyes. Remove all metal objects such as clips and hair pins from hair before lightening and keep them away during lightening. Do not use metal tools. Do not exceed the development time.
INGREDIENTS:
Sodium Silicate, Potassium Persulfate, Ammonium Persulfate, Magnesium Carbonate Hydroxide, Sodium Persulfate, Paraffinum Liquidum (Mineral Oil, Huile Minérale), Sodium Metasilicate, Cellulose Gum, Tetrasodium EDTA, Silica, Succinic Acid, Calcium Stearate, Hydroxyethylcellulose, Arginine, Sodium Hexametaphosphate, Lysine HCl, Parfum (Fragrance), Geraniol, CI 77007 (Ultramarines)